Regular price
$10.00 USD
Sale price
$7.99 USD
Unit price
per
Sale
Sold out
Made with fresh ingredients grown in Big Mama's Miami, FL backyard garden. 
Just 20 calories per serving!
No preservatives, artificial flavors, gluten, dairy, cholesterol, or added sugar.
Just $7.99 for 12 oz. of liquid gold. In stock for shipping, immediate pickup, or delivery.
FREE pickup, FREE shipping for 6 bottles or more. Delivery to surrounding areas in Miami-Dade.
Expanding into grocery stores in South Florida and beyond.
Our story: "This is excellent! You should sell it!" For decades, Big Mama has made this vinaigrette for family and friends. She uses fresh ingredients from her Miami backyard garden including Calamondin, a tangerine/lime-like citrus fruit native to Southeast Asia. Our dressing is exclusively tested on Big Mama's grandchildren, so you know it's good! Shake what Big Mama gave ya if you find any separation in your bottle. 
In two years, we've sold over 4,000 bottles!  We couldn't have done so without the support of our incredible customers.
ALLERGEN-FREE: We do not use peanuts, tree nuts, wheat, milk, soy, fish, shellfish, and eggs in our production equipment.
High in vitamin C, Calamondin is frequently used in marinades, juices, and preservatives around the world.  The peel is so thin that each fruit must be carefully trimmed when picked from the tree.  Despite its orange-like appearance, the fruit is sour but the peel is sweet.  Learn more about this special ingredient here.
View full details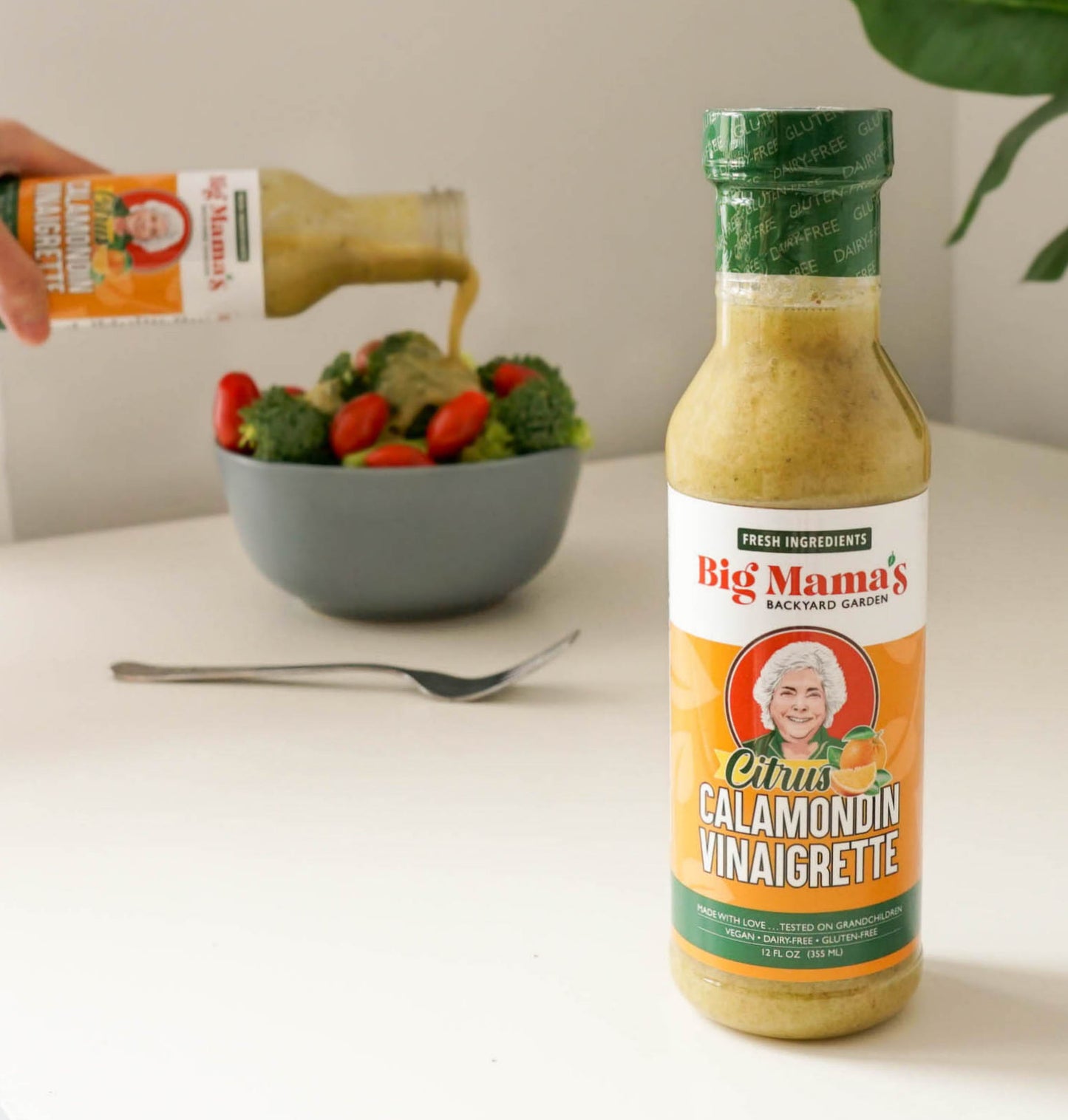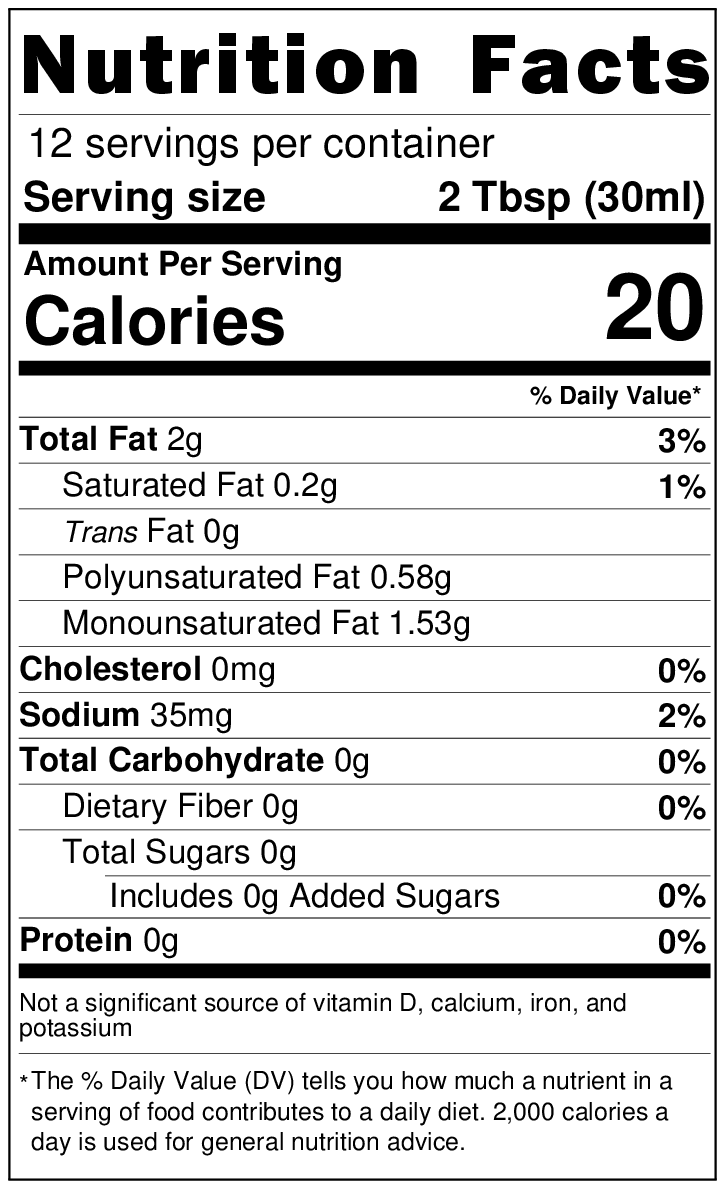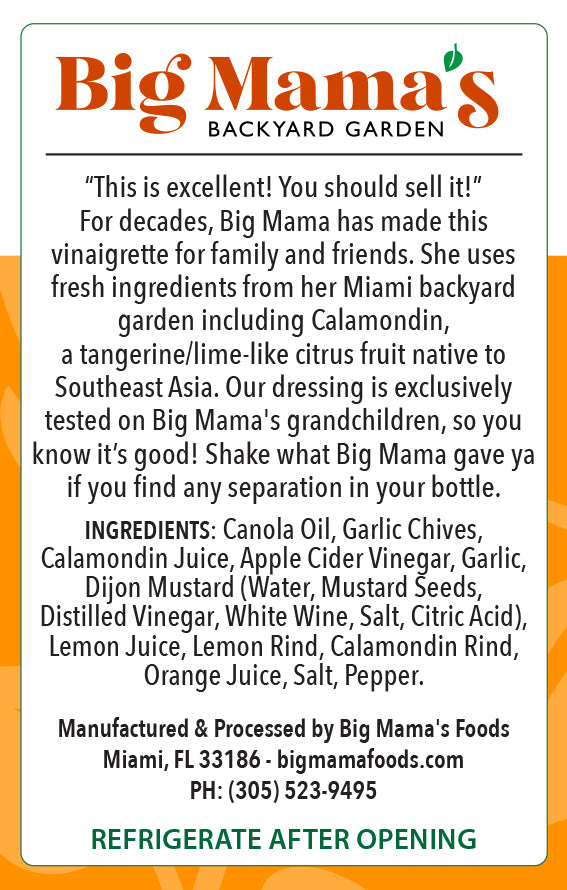 Best Dressing
I can honestly say that Big Mama's is my favorite salad dressing. I really can't have a salad without it now. It's become such a regular go to item that I haven't just ordered a bottle or two but in fact I must have had over 10 bottles by now. It tastes amazing and it's healthy too. What more could I ask for? Thank you Big Mama!!!
I will admit that I was skeptical at first. I figured for the price, it was worth a shot and I like supporting small businesses.
It arrived lightning-fast, and I had to try it. I dipped a finger….
It's not just a good vinaigrette, it's the best salad dressing / marinade I have ever had. Even better than my homemade dressings. My complaint with every store-bought dressing is the generic taste. They appeal to the middle of taste ranges. I have not tried a single store-bought dressing that I like, or would recommend. That is until now. There is a richness in this dressing that I absolutely love. I have used it to Marinate shrimp, pork chops, and vegetables before grilling. (See pictures). It is fantastic. I am so glad I gave it a shot.
Unique, Versatile and Delicious!
I'm decidedly not a salad guy. So when my wife began raving about this new salad dressing, I didn't think much of it. But she insisted I try it, and wow, I was floored. The subtle but complex mix of citrus, mustard and vinaigrette are unlike anything I've ever tasted. Must be the calamondins, which I'll admit I'd never heard of, despite having grown up in very citrusy South Florida. I'm still not a salad guy, but Big Mama's is so versatile that I've used it on chicken, steak and even fried rice, and been delighted every time. Thanks, Big Mama!
The best!
This is the best dressing I have ever had!
My umpteenth bottle
We love it, use it on just about everything except desserts (but hmmm - that's a thought!), and even give it as hostess gifts! Keep making that dressing, Big Mama!