Regular price
$7.99 USD
Sale price
$7.49 USD
Unit price
per
Sale
Sold out
Made with fresh ingredients grown in Big Mama's Miami, FL backyard garden. 
Just 20 calories per serving!
No preservatives, artificial flavors, gluten, dairy, cholesterol, or added sugar.
Just $7.49 for 12 oz. of liquid gold. In stock for shipping, immediate pickup, or delivery.
FREE pickup, FREE shipping for 6 bottles or more. Delivery to surrounding areas in Miami-Dade.
Expanding into grocery stores in South Florida and beyond.
Our story: "This is excellent! You should sell it!" For decades, Big Mama has made this vinaigrette for family and friends. She uses fresh ingredients from her Miami backyard garden including Calamondin, a tangerine/lime-like citrus fruit native to Southeast Asia. Our dressing is exclusively tested on Big Mama's grandchildren, so you know it's good! Shake what Big Mama gave ya if you find any separation in your bottle. 
In two years, we've sold over 6,500 bottles!  We couldn't have done so without the support of our incredible customers.
ALLERGEN-FREE: We do not use peanuts, tree nuts, wheat, milk, soy, fish, shellfish, and eggs in our production equipment.
High in vitamin C, Calamondin is frequently used in marinades, juices, and preservatives around the world.  The peel is so thin that each fruit must be carefully trimmed when picked from the tree.  Despite its orange-like appearance, the fruit is sour but the peel is sweet.  Learn more about this special ingredient here.
View full details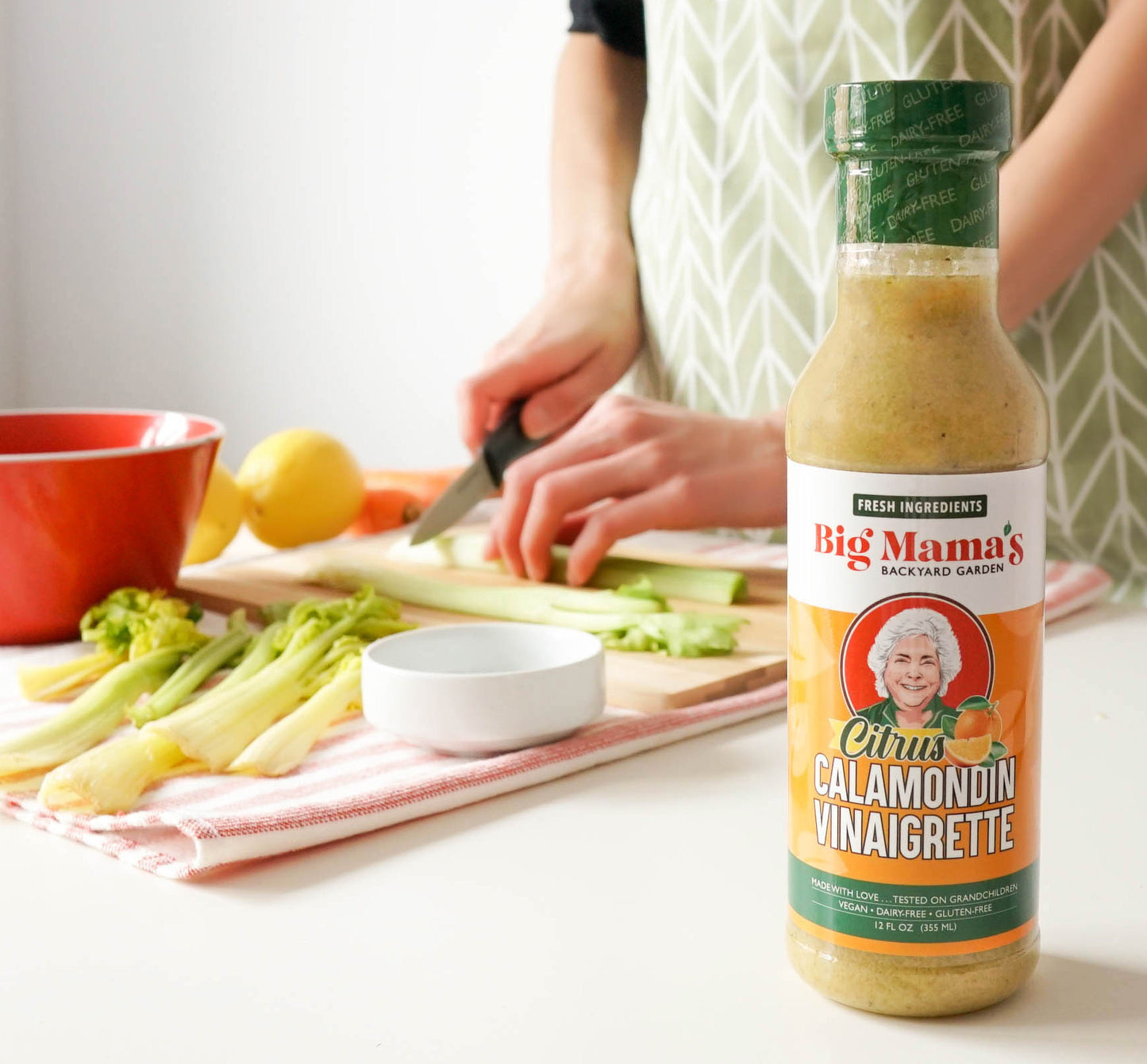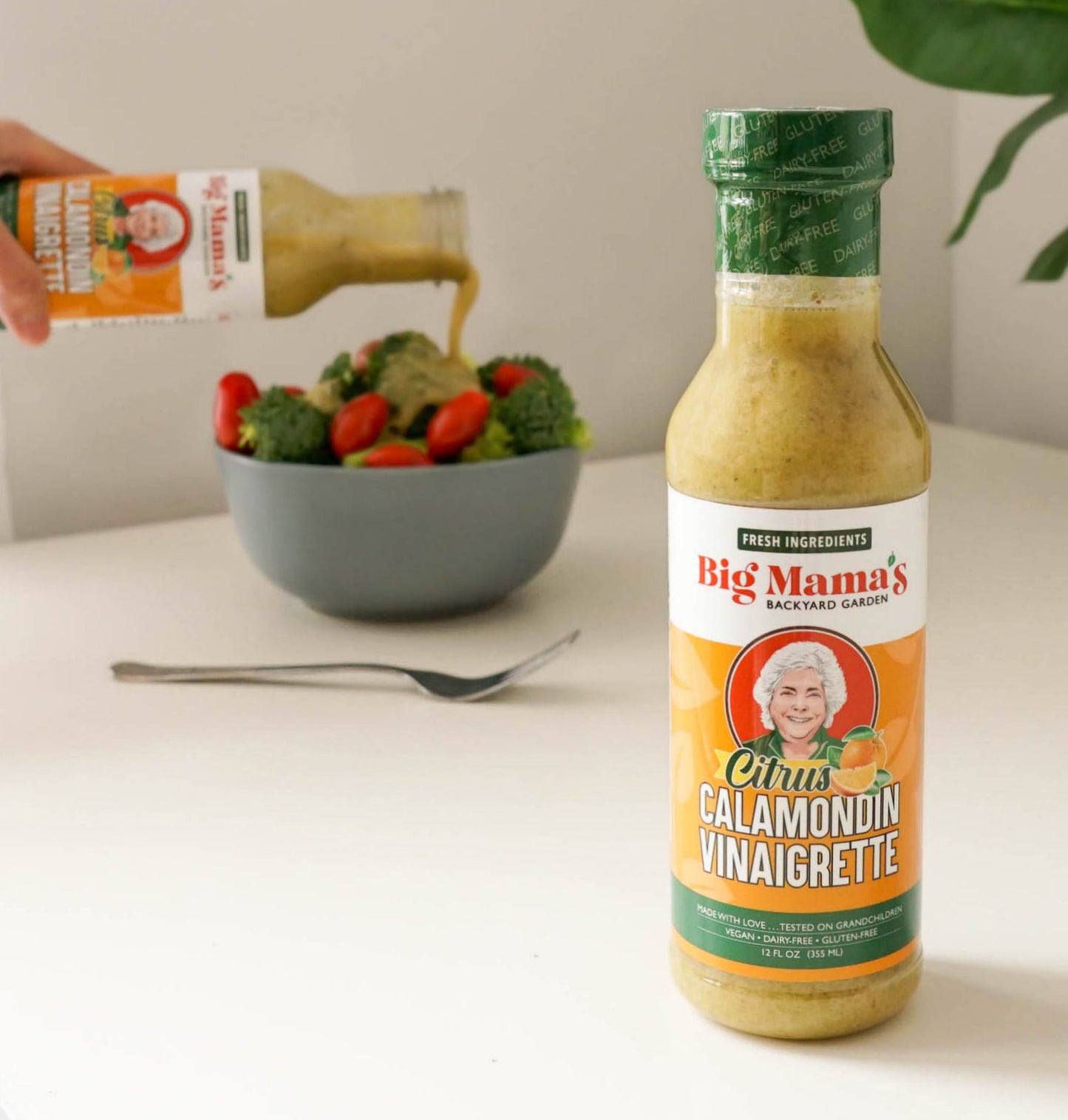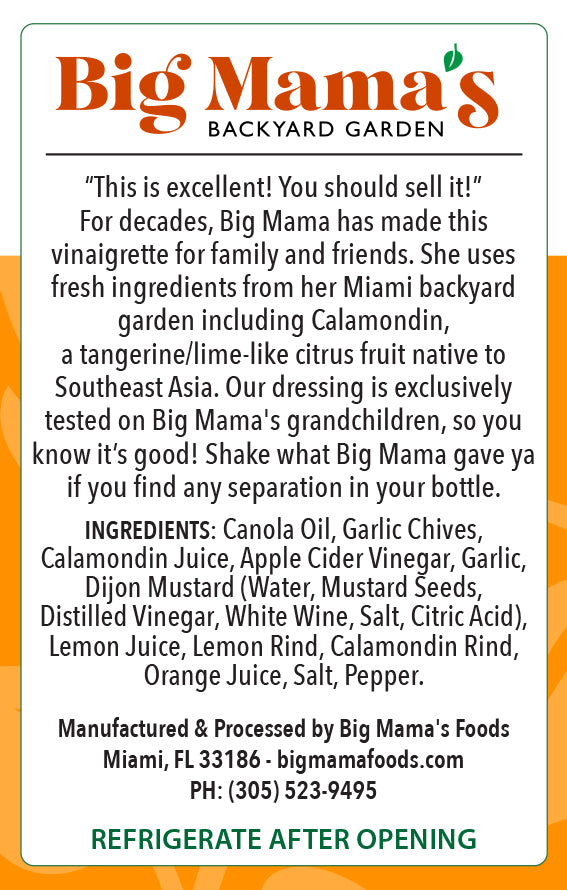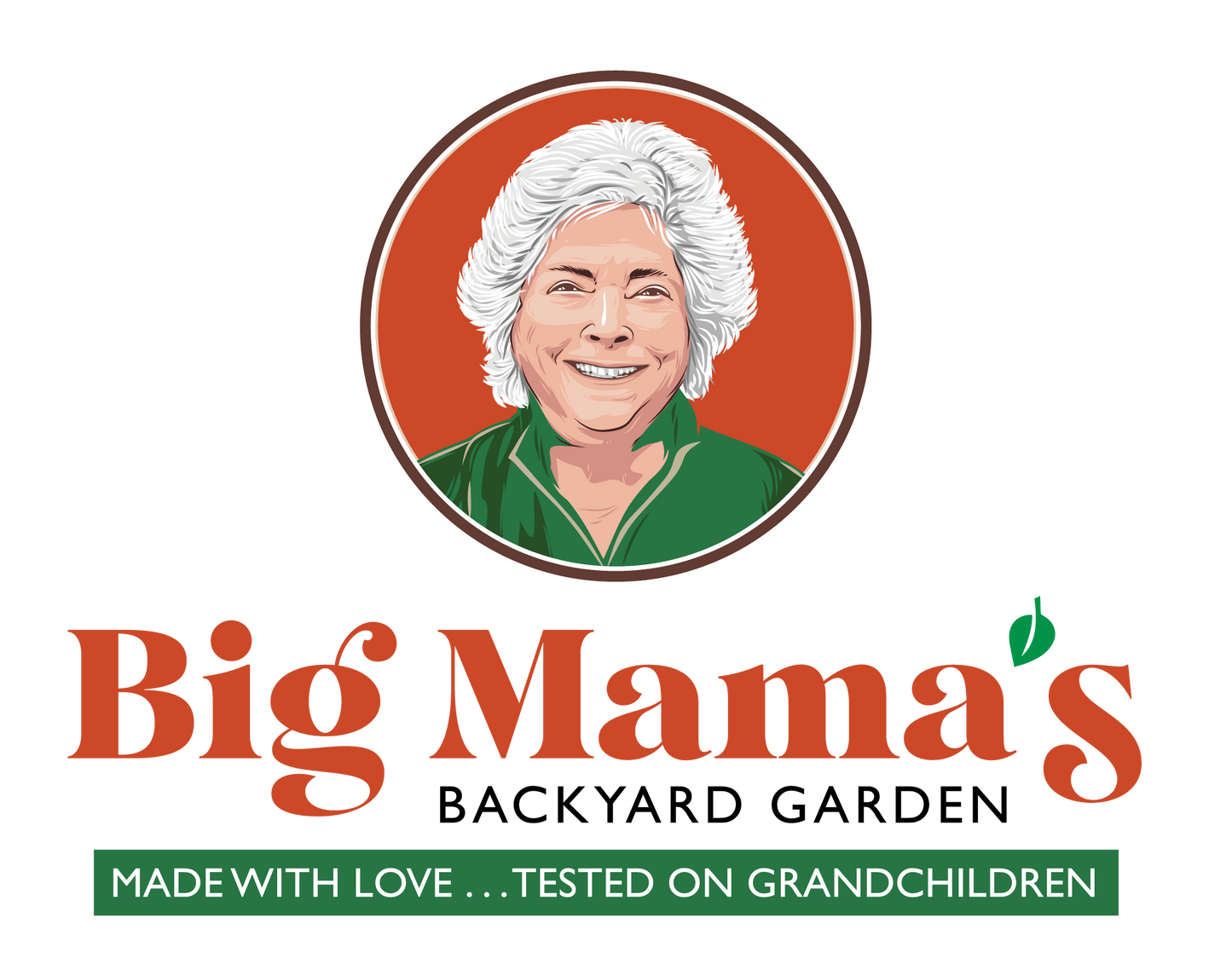 Best dressing!
This dressing is the best I had! My comment is based on the variety of food you can use it with. You can marinate shrimps scallops, any type of fish, and then simply grill it super healthy! I also marinated skirt steak with it, and also grilled it, delicious, you can toss any salads with it I used micro greens with beets, goat cheese, walnuts, and some Swiss cheese cubed wow! It's so good you could put a straw in it and drink it! Just try it you'll see that I am right. Catherine.
Best Dressing
I can honestly say that Big Mama's is my favorite salad dressing. I really can't have a salad without it now. It's become such a regular go to item that I haven't just ordered a bottle or two but in fact I must have had over 10 bottles by now. It tastes amazing and it's healthy too. What more could I ask for? Thank you Big Mama!!!
The Best Dressing!
This is a perfect dressing. It goes well with every type of salad, and can even be used as a marinade! Highly recommended everyone get it!!!
SO YUM
So glad a friend introduced me to this delicious vinaigrette! I love how versatile it is - you can use it so many different ways. Will definitely be purchasing more!
Love Me Some Big Mama's
I love Big Mama's Calamondin Vinaigrette. I have been using it for over a year now almost every meal with my salad. I use no other dressing EVER. I am an avid cook and have been using it in my pasta salads, marinate my chicken with it and serve it with my crudite platters. If you haven't had Big Mama's yet, it's a MUST.