*Allergen info: We do not use peanuts, tree nuts, wheat, milk, soy, fish, shelfish, or eggs in our production equipment.
MADE WITH LOVE…TESTED ON GRANDCHILDREN
Meet Big Mama
Lois Marks (AKA Big Mama) has been gardening and cooking with fresh ingredients for more than 40 years. In her Florida backyard, you'll find orange, lemon, lime, pomelo, lychee, star fruit, avocado, mango, and calamondin trees as well as tomatoes, herbs, and leafy greens like broccoli and kale. The 3 F's – fruiting, floral, and fragrant – dictate inclusion in her garden.
In 2021, Lois partnered with her son Ethan to bottle and sell the calamondin vinaigrette her family has enjoyed for more than 3 decades. She earned her famous nickname from her five grandchildren who can't get enough of Big Mama or her dressing!
Shop Now
Let customers speak for us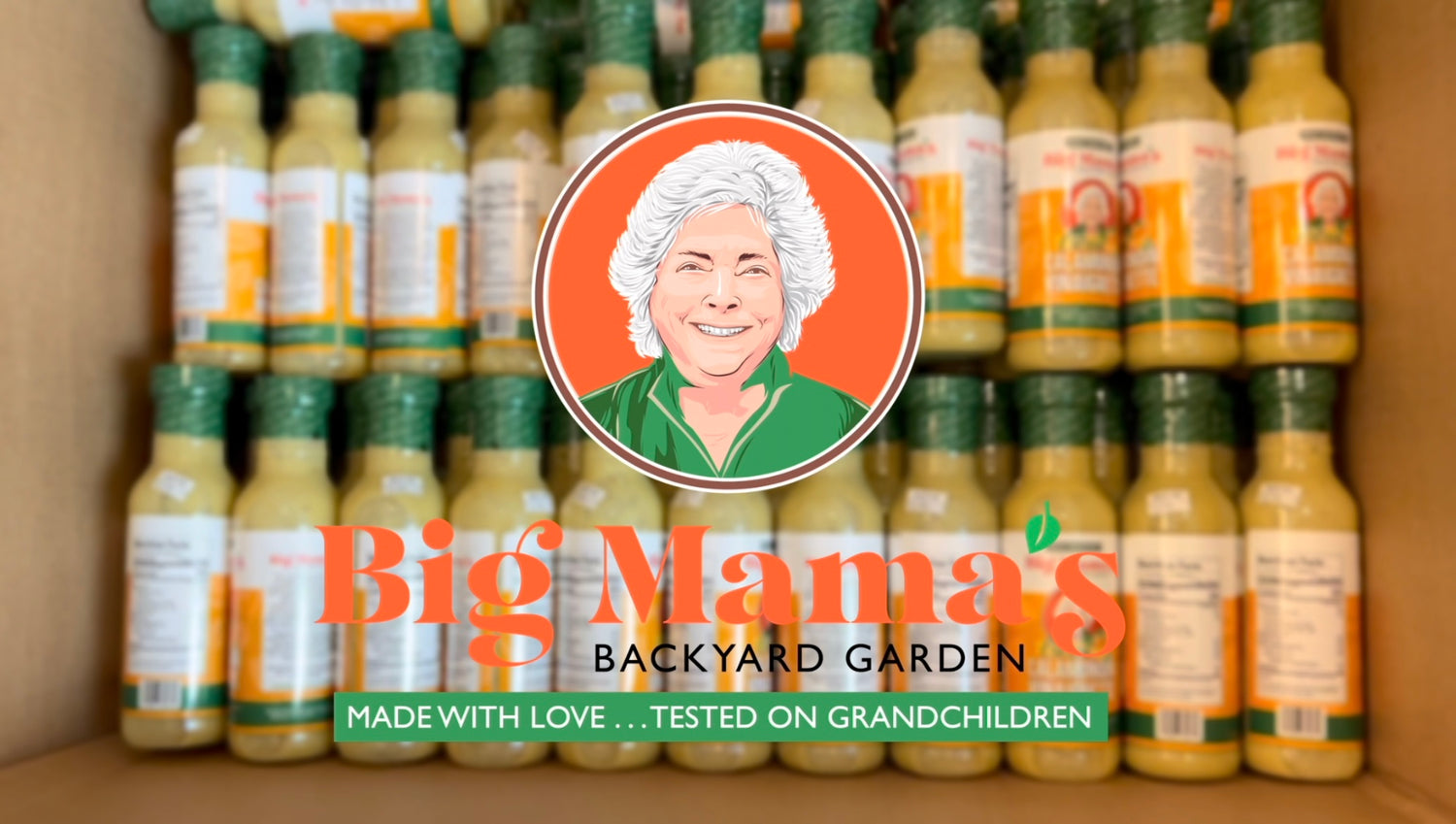 Become a Wholesale Customer
Add a revenue stream to your market, fishery, or general store. You'll watch Big Mama's Calamondin Vinaigrette fly off the shelves!
Email wholesale@bigmamafoods.com or call 305-523-9495 for more information.
Big Mama's Foods is licensed as a wholesale manufacturer by the Florida Department of Agriculture and Consumer Services. Preview current retail partners below.
Find Big Mama's near you
Milam's Market Pinecrest >
11701 S Dixie Hwy, Pinecrest, FL 33156, United States
Mon-Sun: 7:00 a.m. - 11 p.m.
Wayside Market in Pinecrest >
10070 SW 57th Ave, Pinecrest, FL 33156, United States
Mon-Sun: 7:30 a.m. - 6 p.m.
Pinecrest Farmers Market >
11000 Red Rd, Pinecrest, FL 33156, United States
Sun: 8 a.m. - 2 p.m.
Key Largo Fisheries in Key Largo >
1313 Ocean Bay Dr Suite B, Key Largo, FL 33037, United States
Mon-Sat: 8 a.m. - 7 p.m. Sun: 9 a.m. - 4 p.m.
Key Largo Fisheries in Tavernier >
92330 Overseas Hwy, Tavernier, FL 33070, United States
Mon-Fri: 11 a.m. - 7 p.m. Sat: 9 a.m. - 7 p.m.
Belladukes >
Streetside, 155 E Boca Raton Rd, Boca Raton, FL 33432, United States
Mon-Sun: 7 a.m. - 7 p.m.
What is Calamondin?
Calamondin is a small, round, tart citrus fruit that resembles a tangerine. Though it is native to Southeast Asia, it also grows well in Big Mama's home of Florida!
Calamondin juice is tart, so we also use the peel to add sweetness. Garlic chives give the dressing its greenish hue; peeled garlic delivers a complimentary kick; apple cider vinegar adds a healthy tartness; and lemon juice rounds out the flavor.
Shop Now
So Many Uses!
Big Mama has been keeping a list of all the ways customers enjoy her dressing. Here are just a few:
Salads - of course!
Marinade for fish, chicken, beef, turkey, pork, shrimp, lamb
In egg salad, tuna salad, potato salad, cole slaw, pasta salad, deviled eggs (instead of mayonnaise)
Dip for fresh veggies kids love this one & they eat their veggies! (listen up parents)
Dip for stone crabs, crackers, and even french fries.
On grilled salmon, veggies, steak, tuna, halibut and swordfish!
On jalapeno poppers, popcorn chicken, shishito peppers
On popcorn…kids love this one
On pasta, pizza, or even sushi
On mashed potatoes
On chicken tacos, burritos & empanadas
On top of turkey, veggie & black bean burgers
Spread instead of mayonnaise on a chicken salad sandwich
Atop fried rice or plain rice
Sauce for poke bowls
Drizzle on a sub
In a dirty martini (yes, it's unique but he loves it!)
Marinated vegetable kabobs or added after cooking
Chicken fingers - put dressing in the batter before frying or as a dip when serving.
Mix with Greek yogurt to make a dip or topping
Roasted potatoes, roasted root veggies, brussel sprouts, roasted carrots, roasted beets, roasted asparagus
Mahi mahi sandwich with avocado and onion
Into soup (chicken, vegetable, black bean, lentil, barley)
Dress egg, ramen, cellophane, chow fun, wonton or rice noodles
Cut up fresh pineapple or green mango, add salt, pepper, thyme and toss
Some drink it because "it's just so good"
On top of "anything because it tastes so good"
Shop Now
Featured Recipe
You'll need:
Cedar wood plank
Filet of salmon
Salt and lemon pepper
Ginger teriyaki sauce of your choice
Big Mama's Citrus Calamondin Vinaigrette
Soak the cedar plank for two hours in water.
Place the salmon filet on the cedar plank. Sprinkle with salt and lemon pepper.
Add a layer of Big Mama's Citrus Calamondin Vinaigrette.
Grill on the plank for 12-15 minutes at 350℉.
After 10 minutes, top with ginger teriyaki sauce. 
Transfer the filet to a cutting board and use a spatula to remove the skin.
Cut into portions and serve.
Shop Now
Follow us on Instagram @bigmamasfoods